I ca not believe it's Friday - Thursday just passed me by, which you may have noticed as there was no blog entry yesterday. Too many hours at my day job I am afraid.
Anyhow, todays delight is bead woven earrings using nested diamonds and a Swarovski crystal for a dash of sparkle.
The diamonds were woven using peyote stitch with opaque black and matte red beads. The 3 mm jump rings and earring wires are made from niobium. These earrings are available in my Web Store.
I have a pair of these earrings in a different colour way (I'm working on a pair for the store in hot pink and turquoise) and they are one of my favorite pairs of earrings. They have nice dimension and are easy to wear, not heavy of bulky.

Here is a project I have been working on for a couple of weeks. These are size 11 delica beads crocheted in a 6 bead rope. There are two colours of bead and the heart is a Lisa Peters ceramic creation.
The rope needs a few more inches and I have a plan to weave something to hang with the heart. I'm also on the lookout for some cool bead caps.
I used Coats and Clark button and craft thread from their Dual Duty Plus range. It's worked up like a dream. No kinks in the thread, it has a lovely coating that makes it easy to use and the crocheted rope has lovely drape.

Its Choir practice tonight, so just a quick note today!
I find making these little triangles rather addictive and I have several bracelets in my Web Store that incorporate this shape.
My Triangulations bracelet is very simple and offsets the colours used in the design. I was looking for colour inspiration one day last year, wanting to move out of my comfort zone, and came across a series of seed bead sets by Javalle Beads. There are lots and lots of different colour ways to choose from and I picked this set, because bright, neon colours were very popular last summer. These are not usually colours I place together but they work really well and this was the first item I sold at the Highland Park bead bazar last September.
By the way, Javalle beads are excellent quality and there customer service is great. I've purchased many delicas from this company.

This version of the bracelet was a Christmas present for a dear friend and I think the bright colours suit her personality wonderfully.
The seed beads are all Miyuki and the earrings are set off with a hot pink Swarovski crystal.
Here is the bracelet stretched out in all its glory. The other nice thing about this design is how easy it is to scale. Smaller triangles make a narrower, more delicate band, but the bracelet can be sized for any wrist by adding more triangles to the length. Conversely larger triangles can make a chunkier design. I also like the way the triangles have some dimension, they are almost like small pyramids.
I've written a pattern for the Triangulations design and will make it available in the Web Store soon. If you cannot wait! just send me a message at info@fionatranter.com and I can email you a copy.
This new piece was created using a Lisa Peters pendant. Lisa is a terrific artist who uses ceramic and creates beautiful buttons, pendants and cabochons using the Raku firing technique.
Lisa's work is all one of a kind, so you will not find a necklace like this anywhere else.
This necklace is now available in my Web Store
The necklace is 18 inches in length and has a copper snap clasp for easy opening and closure.
Many moons ago on a sunny 4th July Mary Lou from Time2cre8 sat very patiently and tried to teach me how to crochet with beads. Despite the Independance Day cocktails, I didn't do very well. Mary Lou told me I crocheted like a knitter, moving the thread rather than the crochet hook. So we went back to enjoying the sunny afternoon and I decided Kumihimo would be my go to technique for these types of beaded ropes.
Bead Crochet on the left and a Kumihimo beaded braid on the right

Not being able to let the challenge go I took up crochet and made dish cloths and soft toys in an attempt to improve my skills. To no avail, the smaller hooks, thin thread and additional challenge of positioning beads made progressing past row 1 a frustrating mess.
Deciding I needed a different tactic I taught myself the continental style of knitting hoping this would help my bead crochet. The difference between continental style vs the English style knitting is all in the needle and yarn action. In English style the yarn is wound or "thrown" around the needle while the knitting needle remains still. In continental style the knitting needle moves to pull the thread onto the needle – not unlike crochet. Well I improved my knitting skills, tension and speed (continental style knitting is generally quicker than English style as your movements are smaller) but bead crochet was still an enigma.
In 2012 Jobi, of One Cheek Crafts very kindly bought me the book Bead Crochet Jewely by Bert & Dana Freed of The Well Done Experience  and I was finally successful in crocheting a 1 inch tube of size 6 beads.
Hurrah for persistence!
So obviously I was now a leading crochet expert and when my size 6 beads ran out, after roughly 2 inches,  I started a project with size 11 seed beads. I am sure you can imagine how well that went.
In the summer of 2013 I was sitting in my parent's kitchen and had an Ah Ha moment. I cannot tell you what happened specifically other than I was using a smaller crochet hook, thicker thread and size 8 seed beads, but I managed to successfully start a bead crochet rope and continued for another 27 inches. What an addictive hobby this is!. I am still perfecting my technique but I have improved and was brave enough to give away a couple of my ropes as presents late last year.
Of course, after making such progress with the bead crochet itself I was not satisfied with using bead caps and a clasp to finish my crochet rope. No I had to master the invisible join!!!!!
This is still a work in progress and I'm convinced the success of the join is closely related to matching tension in the start and end rows and having enough room for the extra thread in the join.
Here is one of my first attempts at the invisible join

Imperfections are highlighted by the fact I used a light green thread in dark green beads. I have one or two ropes where its very difficult to pick out the join, but in my mind I have along way to go to perfect this technique. I use Tulip crochet hooks and love their awls and yarn needles.
Some of my favorite thread includes Wonderfil Razzle which I picked up at a quilt show, Pearl Crown rayon purchased from a sewing shop and Conso Nylon Thread purchased from my local bead shop. These thicker threads are great for size 8 beads and the final piece has lovely drape (especially if your tension is good!)
For smaller beads such as size 10 and 11 seed beads I use micro c-lon and have had a lot of success with Gutterman top stitching thread, which also comes in a wonderful range of colours.
I am not sure what this story says about my personality but I've had a lot of fun recently, whiling the hours away in front of Downton Abby, crocheting beaded ropes. Perhaps one day I'll consider one good enough to sell.
If you are interested in purchasing bead crocheted ropes then visit Mary Lou's shop. Her work is excellent quality and she comes up with the most amazing designs. You may have seen some of Mary Lou's crochet pieces in Bead and Button or Beadwork. She was certainly an inspiration in my journey into bead crochet.
It's snowing outside today and the temperatures are due to plummet again tomorrow. We are going to take advantage of the warmer temps and have a quick cross country ski outing before we close the bad weather out and get the log fire going.
While the weather outside is frightful here's some eye candy to help take your mind off the weather or the number of shopping days to the holidays!!
All the items featured below are available at Studio Beads in Deerfield. Studio Beads is a wonderful full service bead shop owned and operated by Donna and Jessica, which also carries finished jewelry on Consignment. So if you are looking for a last minute or special holiday gift, they have lots of work by talented local artists and some vintage pieces.

Sophisticated Closed Curves
This bracelet features glass beads from Hobo Glass, links woven in peyote stitch using size 15 beads, Swarovski crystal and Czech Fire Polished glass beads.

Fi Squared
in brown with a hint of purple

My friends used to call me Fi when I was younger and if they were living dangerously they might attempt to call me FiFi, much to my disgust!! While at university studying chemical engineering and rowing with the university women's squad I was known as Fi squared, Fi to the power of 2! better than Fi Fi any day. This was one of the first bracelets I designed and the square shapes inspired the name.
Fi Squared
in Purple with a hint of amber
The Fi Squared bracelets also feature glass beads by Hobo Glass, the band is woven in odd count peyote stitch and the squares are a combination of peyote and herringbone stitch all created with size 11 Japanese seed beads.
Rainbow Closed Curves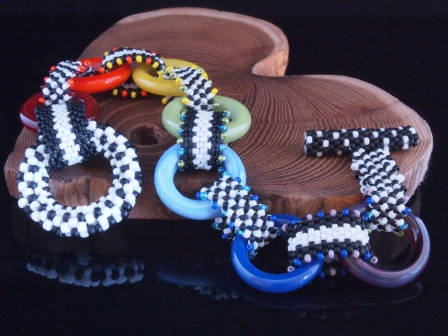 Very similar in design to the Sophisticated closed curves bracelet this piece features glass beads from Hobo Glass. The links are woven in a combination of peyote and herringbone stitch in size 15 beads.

Heather
The colours in this necklace remind me of the Scottish Hills when the heather is blooming. The glass beads in this necklace were created by Thornburg beads. The rope was created using cubic right angle weave the edge of which has been embellished with beads that complement the colour and shape of the focal beads. The necklace is 21 inches long and is finished with a sterling silver clasp.
Recenty I was asked for a custom version of my Triangulations bracelet in teal colours. Here is the finished product. It has a lot of sparkle to it and was a lot of fun to make.

With the request came a query about matching earrings. I had not thought about earrings for the Traingulations series before, but this is what I came up with:

Both were well recieved and I have it on good authority they are admired when every they are worn. I've since made a few more pairs of earrings with both triangles and diamonds and they will be coming to my web store very soon.

Rob and I were invited to our first High School Graduation this year. The daughter of a good friend has graduated and is heading south, to the University of South Florida, to continue her studies.
We were not able to attend the graduation ceremony itself –which is a pity because it was a grand affair staged at the Northwestern University Football field in Evanston – but we did make it to the party.
We bought the new graduate lots of useful things like superglue, duct tape and safety pins – we can't help it we're an engineer and a scientist – but I also made a bracelet.
This bracelet was woven in peyote stitch using Japanese delica beads in four different colours. I have used these colours before to make Triangulations bracelets and I thought they would look cool mixed up. In the beading world this type of mix is often called bead soup.
The bracelet was well appreciated. Here is another view of the bracelet stretched out.
I love the way the light plays on the shiney beads!

I'd also like to say Thank You to everyone who supported the Boocoo craft fair last Saturday. We had a fun day and the music was amazing, as you would expect from a music studio. The vendors were treated to free coffee from the centers café, which was excellent and kept us going all day. Visitors lined up to have henna tattoos from an artist who did beautiful work and incorporated lovely colours into each design. Other crafts for sale included flowers, sewn crafts, beautiful painted mozaics and fair trade crafts from Kenya. Several dance classes were held throughout the day in the performance area and the afternoon was filled with live music.
Fiona Tranter & One Cheek Crafts display at the Boocoo Cultural Center in Evanston.
I've also posted some new items to the Web Store because I do not have another show for a couple of months. The items do not yet have descriptions but there are photographs and all items are priced. I'm working on more details, but if there is something that catches your eye send me an email if you need more information.

The Bead and Button Show was another great adventure this year. Classes started on 28th May in the center of Milwaukee, WI, and the fun continued with shopping, make and take events and much more until 9th June.
I didn't have time to take a class this year but Jobi and I made it up for the Bead Market Place on Thursday evening and Friday.
Fiona and Jobi waiting to shop
A lot of old friends were at the show and I have included alist, along with web site links at the bottom of this entry.
There were also some new vendors at the show this year, which was great. As good as the show is there have not been a lot of new vendors over the last couple of years. It's always exciting to see new talent and find something different to spend money on!
One of the new artists this year was Kim Edwards of Lone Tree Studio, who does amazing things with glass jump rings.
Photograph from Lone Tree Studio Web site
of Kim's dodecahedron beads made with glass jump rings
I purchased a bead from Kim, it's a dodecahedron, simlar to the bead in the photograph above, made using glass jump rings which are combined to make chainmaille inspired designs. Kim said she makes each ring in the flame and then attaches it to the larger chainmaille design. The ring joins are very neat and all well hidden in the shape of the bead; Fantastic work.
Another new vendor this year was All beads CZ, a Czech glass bead specialist who was selling Czech pressed glass beads and several that were Sabine Liperts new shaped beads, don't be put off by the German on Sabine's home page – scroll down for the English.    
We had a fun break from the shopping to try out new crimp pliers and got to make a pair of lovely earrings using Softflex, resin flowersand crystals.  We were so impressed that both Jobi and I purchased a pair each!
The pliers are made by a company called Xuron and they are very easy to use and the best part is that one tool is able to crimp 1, 2 and 3mm crimps. The crimps look very neat afterwards too, this is always helped by using good quality crimps – its amazing how much force those little tubes of metal have to withstand and they are often the only thing holding a piece of jewelry together.
I also purchased a set of ergonomic pliers from Lindstrom. Iam having a lot of fun using these new tools and I am sure there will be a future blog entry to tell you all about them.
New additions to my Bead Stash from 2013 B&B
All in all a fantastic show, with a great mix of new vendorsand fun.
Of course for me, the best part of the show was an invitation to exhibit my work at the Hobo Glass booth.
Some of my pieces use Teresa's glass including Fi Squared(not FiFi) and my Rainbow bracelet. Teresa has her own Fi Squared bracelet which she puts on her booth as inspiration for other beaders wanting to use Hobo Glass beads. The bracelet gets a lot of attention so Teresa asked if I was interested in making more of my work available at Bead and Button. Here is Teresa's booth complete with my bracelets and a necklace Jobi made using Hobo Glass beads.

Jewelry incorporating the glass rings from the trays up front

What an honor it was to see the work on display. Here are some close up photographs of my work that Teresa had on display. Several of these items are still available in my webstore.
Fi Squared in three different Colours and lengths
Rainbow

Pastel

Please excuse the photographs of the Pastel bracelet, I finished this piece the night before the show and hurriedly took a couple of photographs to document the work, expecting to be able to take nicer photos at a later date. I am happy to say the piece sold, but that leaves me with these terrible photographs, which are not even in focus, but I think you get the idea. I am going to make a similar piece very soon.
Here is the list of vendors I promised earlier my post. They are all excellent and I look forward to seeing them at the show each year.

ABR Imagery for glass supplies  

Aylas Originals a full service bead shop in Evanston withgreat classes, pearls and Swarovski crystal stones              

Beyond Beadery a wonderful resource for seed beads and Swarovski crystal. Their shop is too far for me to visit but they have a greatweb site and its always fun to shop at their stand at the show.        

Diane Tarullo, Lampworked beads and well known for her beautiful acorns         

Hobo Glass, Lampworked beads also featured in my jewelry      

Lisa Peters,  Raku pendants, cabs and buttons  

Sonoran Beads, Lampworked beads, metal ribbon and Silversilk and findings               

Thornburg Studios for lampworked glass beads

Cynthia Rutledge is a wonderful designer who is also an excellent teacher. Cynthia sells her jewelry kits at Bead and Button but also teaches throughout the event.                 

Silver Dash for high quality metal findings                            

Sharon Peters for goofy lampworked glass beads            

Golem design Studio for ceramic pendants, cabs and buttons    

Funky Hannah's, a full service bead shop in Racine, WI with great classes, seed beads, findings and much, much more.   

Lillypilly Desings for pendants and buttons made from shell. Heidi Viau engraves some wonderful designs onto shell and the pendants are very light and elegant.