Back in 2013 I was fortunate enough to be able to visit the Festival of Quilts in Birmingham, UK. One of my purchases from the day was a pack of fat 1/8s from Oakshot Cotton. I have pondered for quite some time what design would be worthy for this beautiful fabric and finally decided upon the Double Disappearing Nine Patch. I first found this design on pinterest  and was intrigued, then one of the ladies at my quilt guild used the design and I decided I had to have a go. I have not followed the traditional way of arranging the blocks that are created by this technique which I think enhances the rich colours of the shot cotton.
I've used nearly the whole pack of fabric I purchased from Oakshot Cotton and made a table runner and place mats:
The start of a cushion cover:
and a reversible table runner. This book case is a favorite of our cats, its an Ikea design made from pine, which is a soft wood and does not stand up to the cats claws as the land from the jump up. A perfect excuse to make a table runner!

I have to confess I purchased a 1/2 yard of the purple and burgundy Oakshot Cotton from a stall at the International Quilt Festival back in June.
The camera does not do justice to the rich red colour. Perhaps the folks at Oakshot do a better job on their web site.
As you can see the quilting is yet to happen and I am still contemplating a design that will offset the cotton, which out being too intrusive. I'll post pictures once all is finished.
At a recent Northeast Illinois Modern Quilt Guild meeting one of the quilters brought a beautiful I-spy quilt for show and tell. The inspiration for the quilt was a personal goal to make three quilts from their stash this year and the end result for this quilt was lovely.
This reminded me of a little bundle of 4 inch squares I'd received as a Christmas present one year. The bundle was made up of lots of fun prints but I was not sure what to do with them. The idea of an I-spy quilt intrigued me as we have several nieces and nephews that I think would love to own such a quilt.
I thought I'd make my first cross quilt too and have been cutting up fabric from my stash to compliment the fabrics in the 4 inch square bundles.
I found a lovely white fabric with little flowers on that I thought might work for the white space and the flowers would add a slightly more feminine touch to the quilt. However, as you can see from this photograph, the flowers detract from the white space so I am in the process of exchanging them for a fabric with a pale grey stripe.
So I've officially started getting ready for Christmas !!
Here is another Tula Pink block from her book 100 Modern Quilt Blocks. I'm not managing one a week and at this rate I'll be making a quilt for my sisters grandchildren!
This is the layout for block number 4. I used central park fabric designed by Kate Spain for Moda and a kona solid for the purple.

As you can see from the finished block below I had a little snafu with the blue and green blocks, I made them too narrow. However I was able to find suitable alternatives and the finished block looks great.
Today is National Quilting Day in the US. Celebrating the third Saturday in March as National Quilting Day started back in 1991 when the National Quilt Association voted to adopt a special day and recognize the heritage and tradition associated with quilts and the craft of quilting in American History.
In recent years the National Quilting Association has organized a competition for a quilt design that can become the National Quilting Day Quilt. This years quilt (the 2013 winner) was designed by Evelyn Young of LeRoy Illinois and is available as a PDF here (scroll to the bottom of the page).
The quilt is called Stash Attack and I decided to give it a go. However instead of delving into my stash I decided to use fabric scraps. I keep all my fabric scraps - whether its the left overs from a quilt, making binding or clothes - in a colourful set of draws. I try to keep the scraps organized by colour and have a separate draw for finished blocks and different types of fabric such as flannel and canvas.
My stash of fabric scraps
I did not set out with a plan, other than to use my fabric scraps. I made 5 blocks today and now need to decide what shape to make the finished design. I may also make some additional blocks, in a more planned design and make them into cushion covers.
They are fun blocks to make and with the 6.5 x 4.5 inch fabric piece, its also a good design for showing off relatively large patterns. The finished block is 10.5 square, so you can cover a large area with relatively little piecing.
Stash Buster Blocks
With three purple blocks I must have a lot of purple fabric in my scarp draws. However I don't have much purple in my fabric stash. Perhaps that is because I have used it all!!! Anyhow, I'll have to find some complementary colours to finish the remaining blocks.
Happy Quilting!

This last Christmas I decided to make reusable shopping bags for the family rather than Christmas Stockings. I got the idea for making a pattern from a plastic grocery bag from Crafster and the link will take you to the tutorial for making these bags.
This was my prototype. The bag is an inch or two longer than a half yard and takes up the whole width of the fabric.
This bag uses a Laurel Burch fabricwith a fun fish fabric inside (fish inside the cats!!!!)


I had a lot of fun at Christmas finding fabric to match and stand out.
The inspiration for these bags came from a Plush Addict Blog entry back in December. I made them as a birthday present for one of the young men in my life and they were a lot of fun to make.
Some of the bags are lined with rip-stop fabric, so they are somewhat water proof and good for laundry from an overnight stay. Others are lined with fun fabric and came with cable ties for use with various portable electronic devices. I have an older style Nano ipod and it, along with headphones and charger cable, fit nicely in the triangle bag, which is them slim enough to fit in my hand bag/ purse for carrying around. This is an unlined bag but I bound the seams with bias tape for extra durability.
I am going to make myself a bag that is a similar size to the blue bag with Racoons on the fabric. This will be for scissors and other tools to go in my sewing bag for taking to Quilt Guild meetings.
The smaller bags were made using 7 inch zips, while the larger bags have 12 in zips. The cotton fabric came from my stash, while the rip stop fabric came from Vogue Fabrics in Evanston, IL.
The rip stop fabric used on the Plush Addict blog to make the Welly bag is printed with a fun pattern, so now I am on the lookout for similar fun fabric in the USA.

Here is Block 3 in the Tula Pink book, 100 Modern Quilt Blocks. I've had these fabrics out in my sewing room for months wanting to put them into a quilt block or project, but nothing fitted. I think this block suites the fabric choice well.

The Individual Fabrics

Block Layout

The finished block

Back in January I wrote about the Tula Pink 100 Modern Quilt blocks and how I was going to make a block a week. Well that plan failed miserably but I have completed block number 2 and have photographs to share.
I chose a scientific scheme for this block using the following fabrics from my stash.
Starting at the bottom we have:
A Michael Miller fabric "Lab animals"
The orange fabric is a 2013 Thanksgiving type fabric from Quilting Treasures. I purchased the fabric because I thought the pattern looked like molecules. I don't have the design name however.
I only have a fat quarter of the colourful fabric- which looks to me like microbes under the microscope! you can tell I am not a biologist. This fabric was purchased as the International Quilt show about 4 years ago.

Alexander Henry fabric called Osteology, a cool fabric with human and animal skeleton images.
The final fabric is Moda Shades of Black by Me & My Sister Designs.
Here is the block laid out ready to be stitched.

The book does not give any written instructions for sewing the block together. However the illustrations are beautiful and very easy to follow.

Here is the final block!
I like tea and I am often the recipient of nice teas that come in lovely tins. However once the tea is finished I'm loathed to throw the tin away. I even have problems sending the tin to be recycled!
I am not like this about everything; we do a very efficient job of recycling and sending gently used items to charity. However the tea tins are difficult to part with.
So I decided I needed to find a way to make the tins beautiful and useful. Here is what I came up with:
It's a great way to use up scraps of fabric, or to showcase fabric you really love. The Laurel Burch fabrics are tins I kept for myself, while the Owl tin was a Christmas present for a friend.
I re-purposed the original tins quite some time ago and they have stood up to continuous use in my sewing room and in our guest room.
Materials
Swatch/ scrap of favorite fabric
Non-woven interfacing
Instructions
Once you have chosen your container, measure the height and circumference. I usually wrap a tape measure around the center of the container.
Cut a single piece of fabric approximately 1 inch wider than the height and 2 inches longer than the container circumference.
Cut a piece of non-woven, iron on interfacing a1/2 inch smaller than the fabric swatch.
Iron the interfacing to the back of the fabric,in the center of the swatch.
Cut along all four edges of the fabric swatch with pinking shears at the point the interfacing ends. The interfacing will hold the edges which along with the zig zag of the pinking shears will stop the fabric from fraying.
Wrap a length of carpet tape around the body of the container.
Lay the fabric on the carpet tape and wrap around the container, leaving the overlap free.
Place a line of good sticky tape along the end of the fabric, and attach the final length of fabric to the container.
A useful pot to keep things in, as Winnie the Pooh would say
I purchased a copy of Tula Pink's City Sampler, 100 Modern Quilt Blocks with the aim of completing a block a week to force me to spend some time in my sewing room.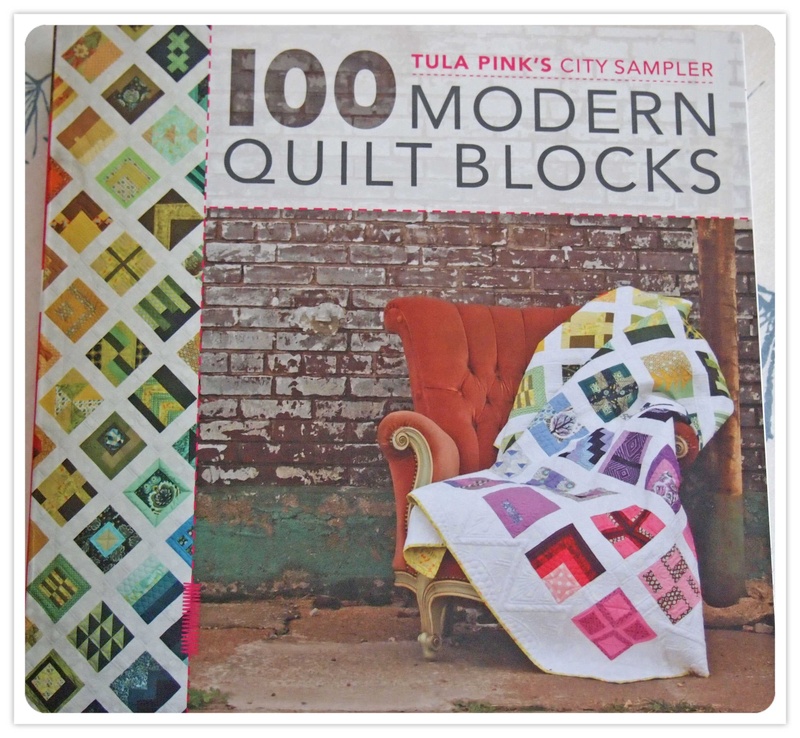 Well it's been over a month since I bought the book but I made progress this weekend and completed block 1 in the book. I used Malka Dubrawysky fabrics from one of her first commercial lines; in fact I used fabrics from a 5 inch charm square bundle.

Here are the parts all cut out and arranged on my design wall ready to sew. The solid fabric is another 5 inch charm pack, from the Robert Kaufman Kona solid collection.
And here is the finished block
My plan is to sew the blocks into curtains for my sewing room. At this rate it could be while before I have curtains, but I'm going to try to finish all the blocks by the end of the year. I'll share more as I go along.